Virtual Summer Camp Registration Is Open
Nexplore Is Thrilled To Announce Our Virtual Summer Camp!
Nexplore, the one-stop shop for on-site STEAM enrichment services, is excited to announce our Virtual Summer Camp!
We created our Virtual Summer camp as a place with a purpose. Nexplore's Founder and CEO, Dori Larea, says, "This is a place where imaginations take flight, interests are discovered, skill sets are improved, friendships are made, and campers can soar. We encourage our campers to dream big, and we empower them with the confidence and skills to shoot for the stars."
Our well-rounded summer program is taught by experienced instructors, live, on your home device. Our curriculum offers a rich mix of STEAM, fitness, life skills and hands on activities to maintain a healthy life style and a balanced routine for K-5 students. We offer these programs; Makers Club, Science Wiz , Nature Watch, Visual Art, 3D Art Rods, Zumba Kids , Capoeira , Finance literacy, Strategy Games and Magic. Nexplore's Virtual Summer Camp will also provide virtual tours to famous Museums and Zoo's, storytelling and more!
Nexplore will ship sealed, consumable kits directly to your home address. Your child will be able enjoy our hand-on activities while remaining safe at home. Some of our activities will be based on supply that can be found in most households. Nexplore will provide an item list prior to class.
ABOUT NEXPLORE:
Our mission is to foster the joy of learning and provide the best educational experiences for kids across the Nation. We offer the most diverse selection of instructor lead after-school, in-school, homeschool and summer programs that are cutting-edge, unique, and fun, both in person & online! Nexplore is a National Enrichment Provider with over 15 years of experience. Our programs are currently offered weekly at over 300 educational partners across 8 states, and growing.
CLICK HERE TO Learn more about our programs!
Nexplore had the pleasure of being an exhibitor at the 2019
Nexplore had the pleasure of being an exhibitor at the 2019 Florida Afterschool Conference held in Orlando, Florida September 24-27 at the Rosen Centre Hotel.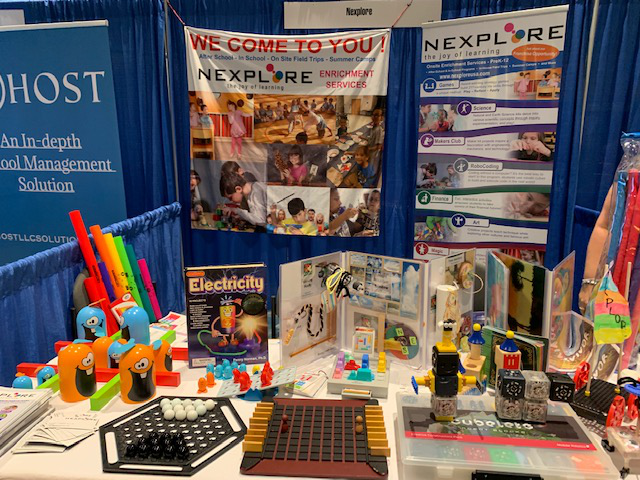 The event brought together over 600 teachers, school and district administrators, 21st CCLC sub-recipients, and those working in or with community-based organizations after school providers. The theme of the conference was Eyes on Afterschool. The conference connected afterschool professionals who share a commitment to high-quality afterschool, before school, holiday, and summer programming to support the academic and personal growth of students.
At the Nexplore table, the attendees were mesmerized by our robocoding, art rods, games and science programs. Throughout the event we were kept on our toes with a steady stream of visitors touching, playing and inquiring about how they can bring Nexplore to their programs. It was a rewarding and exciting experience for Nexplore and we made loads of new friends throughout Florida. Can't wait for the next conference!
Learn more about the 21st Century grant program and the Florida After School Alliance at:
http://www.fldoe.org/schools/family-community/activities-programs/21st-century-community-learning-center/
https://floridaafterschool.org/
.
.
Older Entries
Next Entries »