Nexplore's Successful Philly Franchisee Training
Nexplore is thrilled to share the success of our recent Philly franchisee training. Nexplore's newest franchisees embraced our core values and hands-on learning approach, paving the path for Nexplore's growth in greater Philadelphia. With ongoing support, community engagement, and a commitment to excellence, we're excited about the bright future ahead!
Join our mission to foster the joy of learning and make a difference in your community with Nexplore franchise opportunities.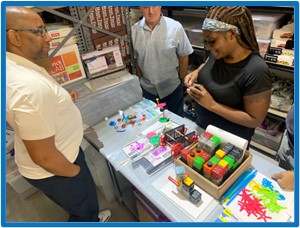 Marc Anthony Rice and Alan Luchnick, our Philadelphia franchisees, experienced Nexplore's "hands-on" learning approach with Logistic Coordinator and Instructor, Monique Jones.