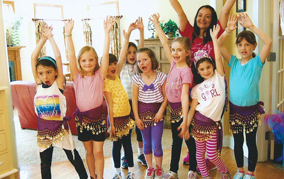 Zumba® Kids and Zumba® Kids Jr. classes are designed to combine movement, music, community and a healthy lifestyle for children. These fitness classes are rocking, high-energy dance parties packed with specially choreographed, kid-friendly routines and all the music kids love, like hip-hop, reggaeton, cumbia and more. Zumba® Kids and Zumba® Kids Jr. inspire kids to express themselves through movement and play while effectively improving their overall health and well-being. Kids love it because it's on the cutting edge and fun. Parents love it because of the effects it has on kids: increasing focus, building self-confidence, boosting metabolism, creating nutritional awareness and enhancing coordination.
All classes are offered by a certified Zumba® Kids instructor.
Zumba®, Zumba Fitness®, Zumba Kids® logos are trademarks of Zumba Fitness, LLC. Empowered by Nexplore.
Zumba Kids high-energy dance and fitness classes help develop:
A healthy lifestyle
Balance
Confidence
Coordination
Creativity
Cultural awareness
Discipline
Leadership
Memory
Pride
Respect
Responsibility
Teamwork