Nexplore had the pleasure of being an exhibitor at the 2019
Nexplore had the pleasure of being an exhibitor at the 2019 Florida Afterschool Conference held in Orlando, Florida September 24-27 at the Rosen Centre Hotel.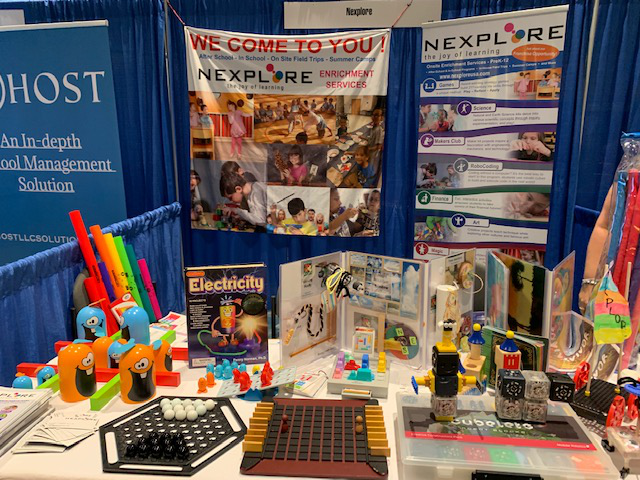 The event brought together over 600 teachers, school and district administrators, 21st CCLC sub-recipients, and those working in or with community-based organizations after school providers. The theme of the conference was Eyes on Afterschool. The conference connected afterschool professionals who share a commitment to high-quality afterschool, before school, holiday, and summer programming to support the academic and personal growth of students.
At the Nexplore table, the attendees were mesmerized by our robocoding, art rods, games and science programs. Throughout the event we were kept on our toes with a steady stream of visitors touching, playing and inquiring about how they can bring Nexplore to their programs. It was a rewarding and exciting experience for Nexplore and we made loads of new friends throughout Florida. Can't wait for the next conference!
Learn more about the 21st Century grant program and the Florida After School Alliance at:
http://www.fldoe.org/schools/family-community/activities-programs/21st-century-community-learning-center/
https://floridaafterschool.org/
.
.
Child student Enrichment Activities, Academic Success and the Social-emotional Benefits
There are proven connections between enrichment activities, academic success and social-emotional benefits. Enrichment activities promote critical thinking and problem- solving skills, improve student's ability to concentrate, and make learning more meaningful, valuable, and rewarding.
Enrichment activities are fun, which helps students to become more engaged in their learning and retain more information.
These activities also give children opportunities to build friendships they might not otherwise have had the chance to make. When children are put into an environment with other children at a variety of levels and ages, the activities become more motivating, fun, and unique. These programs encourage children to work cooperatively with others. Through these enrichment programs children also develop increased self-confidence Increased self-esteem, creativity, leadership and decision-making skills.
Enrichment activities act as a key for healthy development and learning. Science shows that, from birth through young adulthood, our brains are continuously developing. Children and youth need continued support throughout this development from different learning environments.
At Nexplore we foster a love of learning in our students through enrichment activities that are hands-on experiences designed to inspire and empower their natural curiosity. We are committed to offering a diverse range of learning opportunities where students can explore their passions and strengthen the core life skills needed to thrive in the 21st century.
Over the summer we added new enrichment programs.
They include:
Arts Rods which is a 3D art program, Survival Science teaching, students to learn exactly what to do in an emergency through the team-based study of real-world survival skills.
Finance which takes a hands-on and fun approach to understanding money in the real world empowering PreK-8th grade students to take positive financial action in their lives, thus, improving emotional wellbeing and overall health and Boom Whackers.
What is a boom whacker? Well, it's a stick which, when whacked, plays a musical note. It's as simple as that. Boom whackers enhance learning by integrating music and movement. Boom whackers are lightweight, hollow, color-coded, plastic tubes, tuned to a musical pitch by their length and when you whack them and they create a unique sound.
For the next few weeks Nexplore will be attending numerous conferences across the states promoting our programs. We will be in Wisconsin on September 24th presenting to the providers of the 21st Century Learning Centers recipients, in Orlando on September 25 -27th at the Florida After School Alliance conference and in Houston Texas on October 11th at the Harris County Department of Education.
Older Entries